Application
Specially constructed for use on all hot water heating boilers. These combination gauges give accurate indication of temperature and pressure.
Size
40, 63, 84mm
Accuracy
Pressure ±2.5% of Span
Temperature ±3% of Span
Ranges
0-75 PSI & 60-320 ℉ Or other equivalent units ranges.
Operating Temperature
Ambient: -4℉ to 140℉ (-20℃ to 60℃)
Media: max. 158℉ (+70℃ )
Standard Feature:

Connection
Material: Copper Alloy
Center Back Mount (CBM)
1/4" NPT Limited to wrench flate area
Bourdon Tube
Material: Spiral Copper alloy
Dial
Gavalume steel, white background
Pointer
Aluminum, black finish
Case
Drawn steel, black corrosion resistant paint
Ring
Rotating with a indicating pointer
Movement
Brass
Window
Polycarbonate
Shank
Standard length 0.9"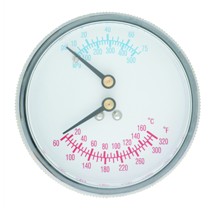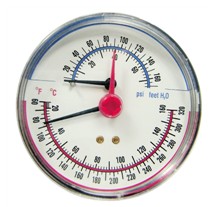 Order Options(min. order may apply)
Special colors / chrome,plated case
Customer dial layout
Temperature may choose the length of rod size
Special connections limited to wrench flate area